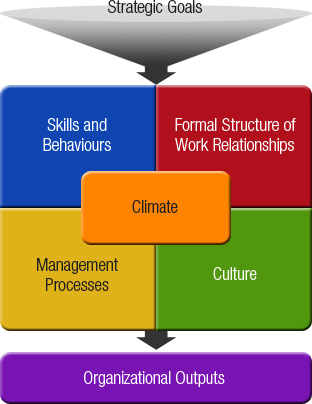 It is People, their thoughts, ideas and activities that translate organizational intent, goals and strategies into outputs. The Climate in the organization determines how effectively strategy is implemented to make this happens; so organizational performance is driven by Climate. In this context, Climate is defined as 'what it feels like to work here'.
We have defined four dynamic levers that determine the climate and employee engagement. They can be measured and improved, and they are shown here;
Skills & Behaviours
Formal structure of work, relationships and levels of authority
Management Processes
Values – How things are done here; Culture
All things being equal, those organisations with high employee engagement, i.e. strong Climate, deliver more impressive bottom line performance. Fundamentally, engaged employees are the critical differentiators in an organisation delivering outstanding rather than merely average performance. Furthermore, we know that those organisations that raise the engagement of employee achieve an improvement in business performance.
Testimonials
"I would like to see this programme rolled out to more of the company."
"I learnt that being directive without indifferent is an effective leadership style. It requires effort and preparation to be a good Blue 4. Engaging boss, peers and subordinates is very important as one influences the other and the desired result. The GPI provided me with a good starting point to develop my plans to close my performance gaps. ."